personal attention
chevron_right
Minimum order €50 | Express delivery GLS Shipped from Spain | Deadline for Same Day Shipping 19:00h
Minimum order €50 | Express delivery GLS Shipped from Spain | Deadline for Same Day Shipping 19:00h
WIWU Wireless and Bluetooth Mouse WH104 Silver
WIWU Wireless and Bluetooth mouse WH104 Silver
WIWU brand transparent wireless mouse premium design with a very well presented box.
more info
Wiwu WM104 Wimice Lite Double Magic Mouse
Suitable for travel, office and similar environments, it can be used conveniently and quickly.
Possibility to use as plug and play with wireless or Bluetooth connection.
Bluetooth 5.0 / Wireless 2.4 Ghz dual mode connection.
Light, compact and elegant design.
Get rid of clicking noises thanks to its quiet operation design.
The fine sandblasted metal surface effectively prevents slipping and sweating, providing a delicate and comfortable grip.
Metal central wheel.
Magnetic top cover.
Sleep mode function.
600 mAh battery capacity.
DPI speed: 1600 DPI (1000/1200/1600 DPI options).
Bluetooth specification: Bluetooth 3.0/4.0/5.0
Wireless connection version: 5.0
Wireless Frequency Range: 2402MHz - 2480Mhz Ghz
Range of use: 10m
Working voltage: 1.5V
Weight: 58.1g ± 5g
Size: 110*63*30mm
Charging time: 2 hours
Usage time: 30 days
Charging Port: Type-C
Wireless mouse

Model

Wireless mouse WM 104
Dual Model: 2.4G & Bluetooth

Color

Tarnish,Silver

Size

110*56*30mm

Features

Wireless Mouse: 2.4G & Bluetooth connection
Optical Resolution: 800/1200/1600dp
Wireless connection version: 5.0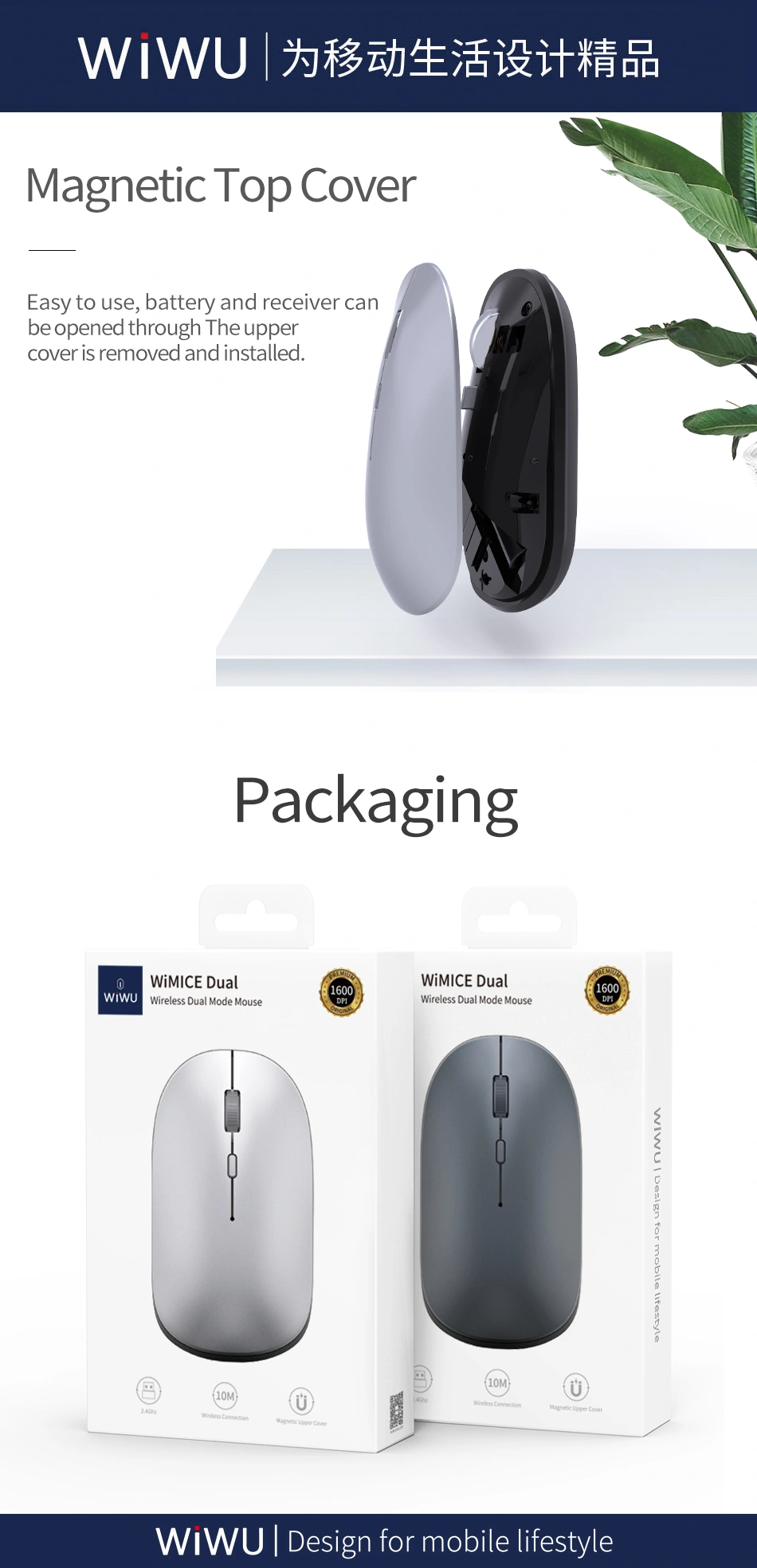 Customers who bought this product also bought: