personal attention
chevron_right
Minimum order €50 | Express delivery GLS Shipped from Spain | Deadline for Same Day Shipping 19:00h
Minimum order €50 | Express delivery GLS Shipped from Spain | Deadline for Same Day Shipping 19:00h
WIWU Stylus Pen Compatible with Ipad 1 gen
WIWU Stylus PenL is compatible with Ipad 1gen
Stylus pen compatible with some ipad,  wIWU brand premium design with a very well presented box.
more info
Wiwu Pencil L Touch Pen Palm-Rejection Tilt Drawing Pen
COMPATIBLE IPAD MODELS PLEASE CHECK FIRST
A2126, A2124, A2125, A2133
A1954, A1893
A2200, A2198, A2232
A2197, A2199, A2603, A2604, A2605
A2270, A2428, A2429
A2153, A2123, A2154, A2152
Compatible with iPad 2018 and above
Drawing pen redefines drawing and writing on tablets and smartphones (some apps)
Ability to feel and write like a real pen
One-touch on/off with tactile button
Depending on the horizontal use, the writing and drawing characteristics change.
"Palm rejection" protection against accidental touches (so you can use the stylus while your hand is on the tablet)
You can check how much charge your pen has left on the tablet screen.
Its reinforced battery provides approximately 9 hours of use on a full charge.
Fast full charge in 1 hour
The ultra-fine tip lets you draw, write and navigate with precision and offers comfortable, pen-like control.
You can charge it with the Lightning port on the back.
Anodized and coated aluminum surface provides durability and offers a stylish appearance
With magnetic adsorption, you can carry it on the edge of your tablet in a very practical way.
Does not depend on pre-installed custom software or specific applications
Package includes 2 pen tips.
Charging time: 60 minutes
Charging interface: Lightning
Working time: about 9 hours
Application Screen: Capacitive Screen
Input voltage: 5V
Pen Tip: Replaceable
Length: 166mm
Diameter: 9.1mm
Weight: 15.6g
Battery: Lithium polymer140mAh
Function: coloring/writing/note taking/curved text function
                                                                                              Product features
*Brand

WiWU

*Model

Pencil L

*Material Type

Aluminum alloy

*Color

White

*Charging Port

Lightning port

*Charging Time

1 hour

*Working Time

10-12 hours

*Battery

140mAh

*Compatibility

Stylus pen 1st Gen for 2018 to 2022 iPad, iPad 6th/7th/8th/9th/10th Gen, iPad Pro (11/12.9inch), iPad Air 3rd/4th/5th Gen, iPad Mini 5th/6th Gen

*Features
Palm Rejection & Tilt Pencil
Diameter: 9.5mm
Length: 165mm
Battery capacity:140mAh
Charging time: 45min
Working time: 6-8 hours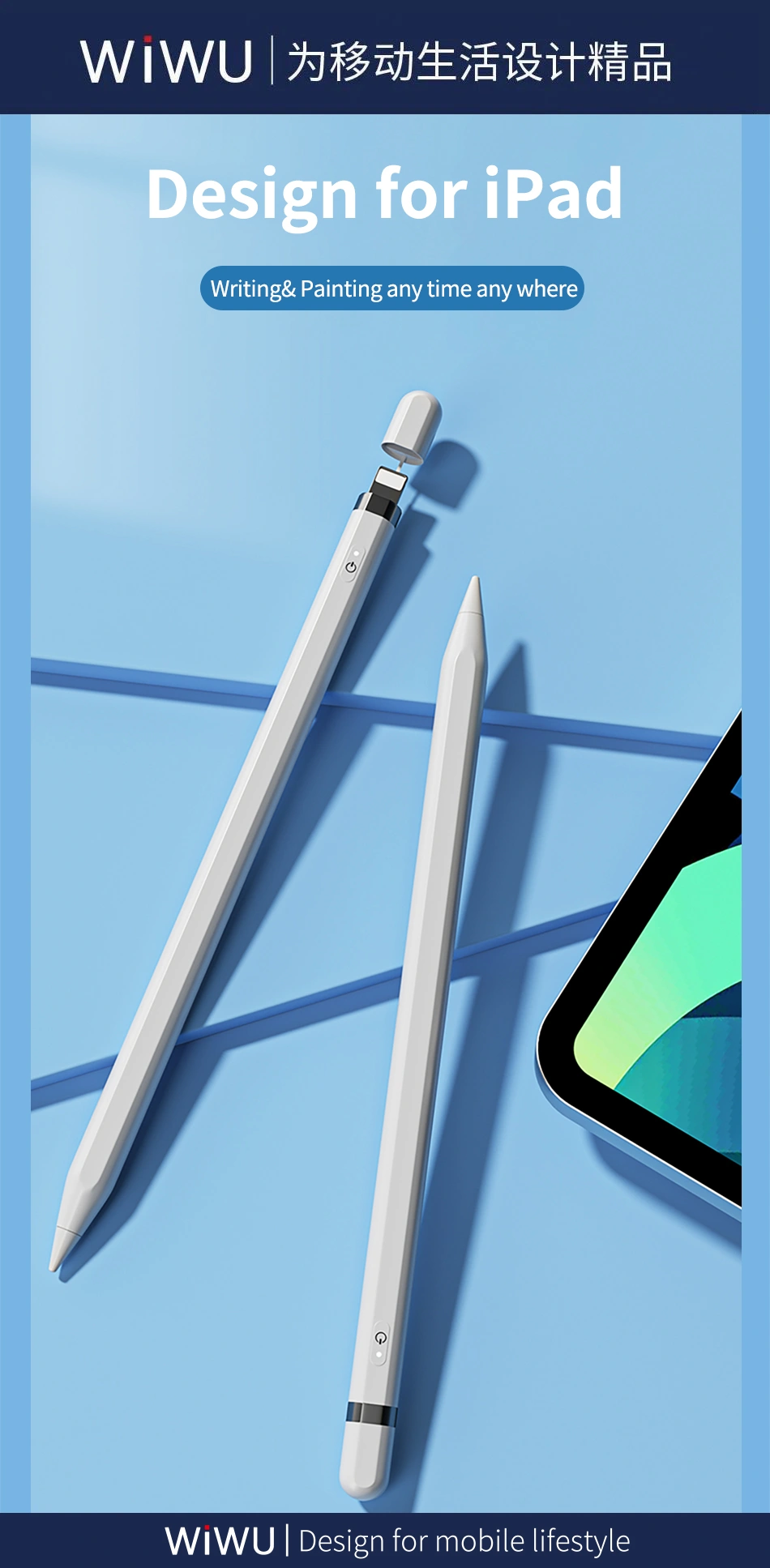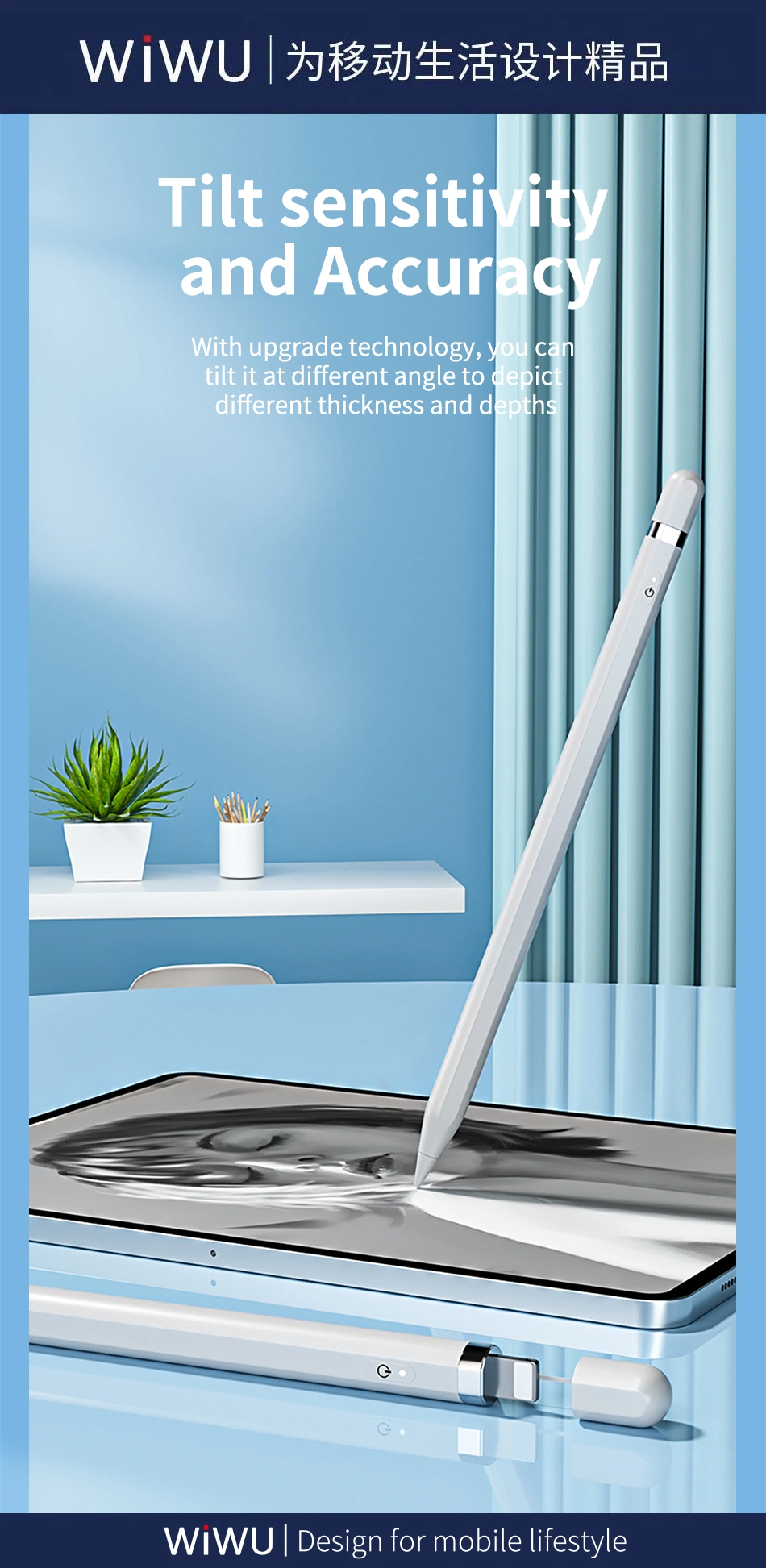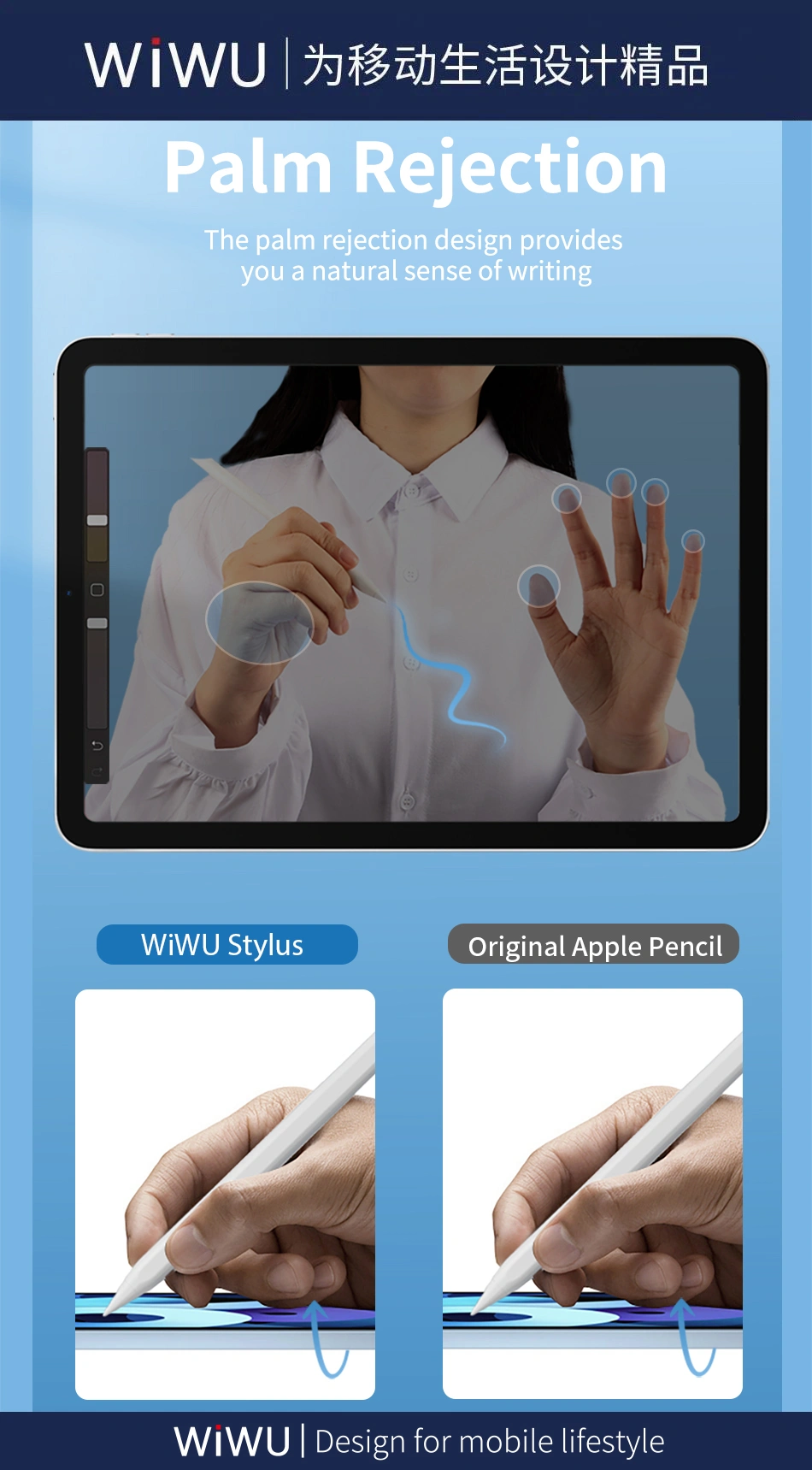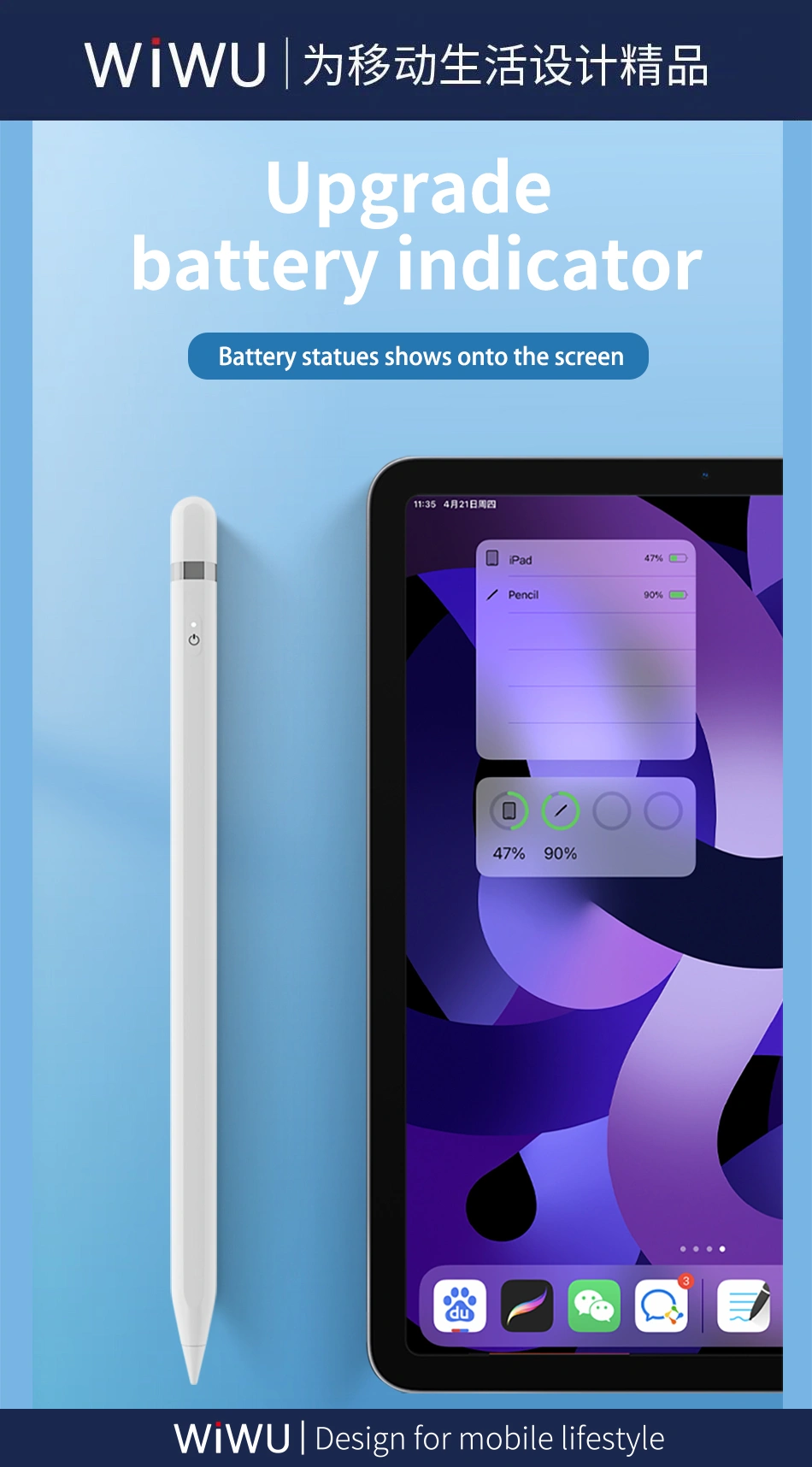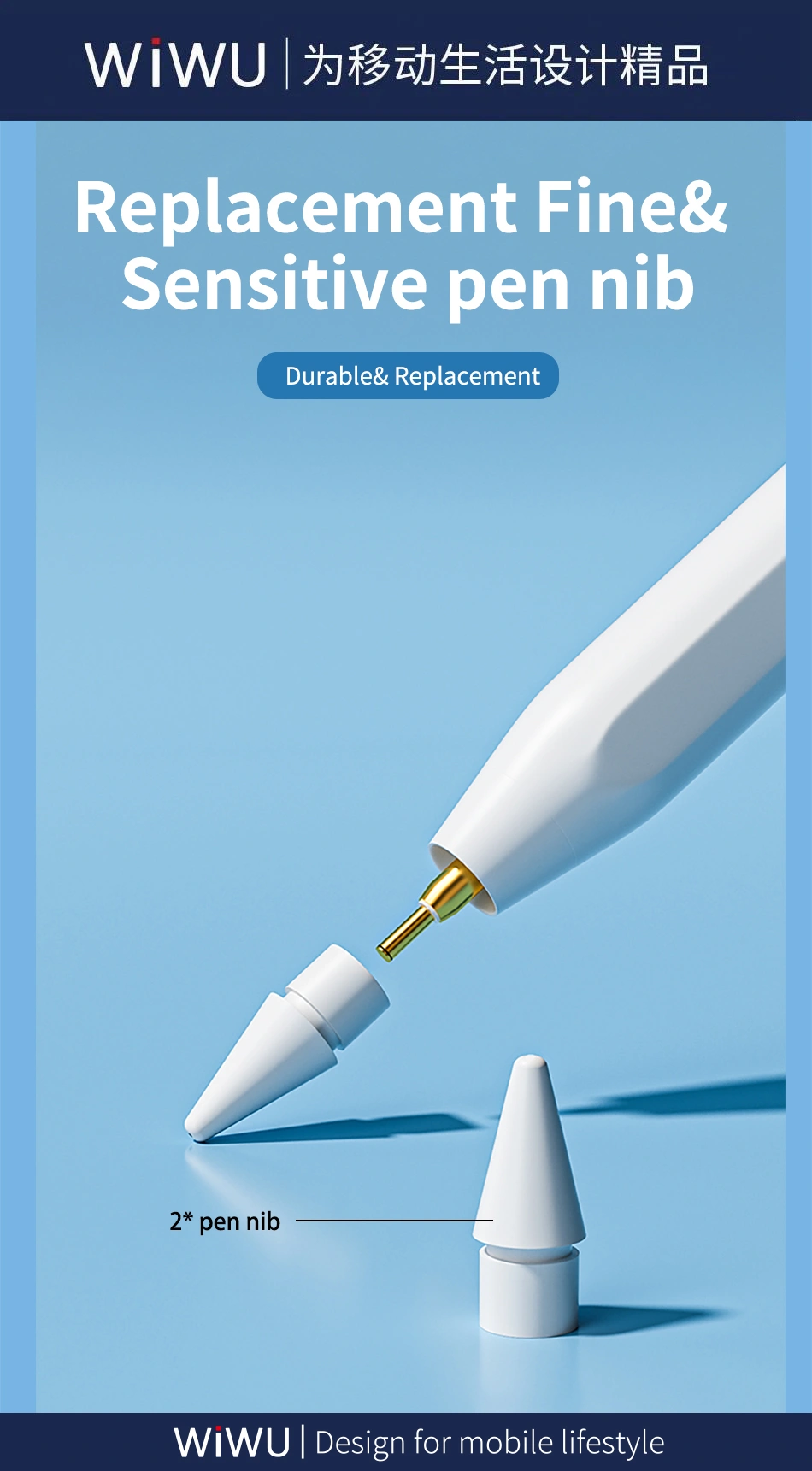 Customers who bought this product also bought: